CatEye Strada Smart Bike Computer w/Speed & Cadence (Black)
This item is discontinued and no longer available for purchase. You may want to
search our site
for a similar item.
This is the Cateye Strada Smart with speed and Cadence sensor included. This version of the Strada Smart does not include the heart rate sensor. The Strada Smart connects with your smartphone through the CatEye Cycling App. The Strada Smart is mounted on your handlebar or stem, while the smartphone is stashed out of harm's way in a pocket or saddle bag.

In Mirror mode, the smartphone records ride data and transmits a copy to the Strada Smart. Phone call and email alert icons are also displayed. The phone is kept in sleep mode, preserving the battery. The Strada Smart can work with Bluetooth Smart Speed, Cadence, Heart Rate and Power sensors in this mode. When smartphone use is not an option, Sensor Direct mode can be used as a back up. Sensor Direct mode syncs the Strada Smart directly with the Bluetooth Smart Speed, Cadence, Heart Rate and Power sensors, so important ride data is always available.

Post ride, the data is easily uploaded from the App to CatEyeAtlas™, Strava™ and TrainingPeaks™.
Upload Ride Data to training sites and share with the press of the button
View call/email alerts and ride data in real time on the Strada Smart
Smart setup - Setup of the Strada Smart, Customizable display and Clock auto adjustment
Import a summary of ride data in Sensor Direct Mode
App can be used directly with smartphone.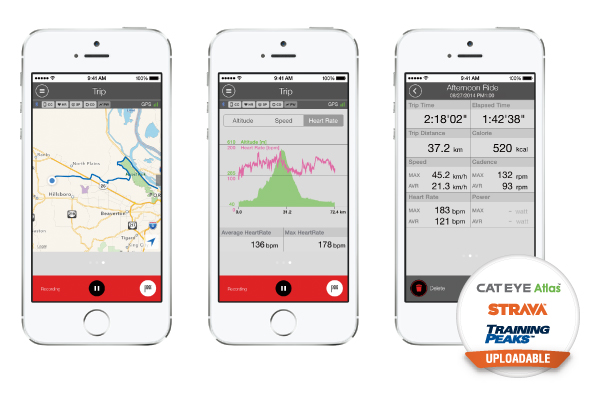 Please check to see if your smartphone model is compatible HERE.
Specifications:
Current speed: 0.0(4.0)~105.9km/h
Total distance: 0.0~9999.9/10000-99999km
Trip distance 1: 0.00~999.99km
Trip distance 2: 0.00~999.99/1000.0~9999.9km
Elapsed time: 0:00'00"~9:59'59"
Average speed: 0.0~105.9km/h
Maximum speed: 0.0(4.0)~105.9km/h
Wireless transmission: Bluetooth®
Clock: 0:00'~23:59' [1:00'~12:59']
Pace arrow: Yes
Auto power saving: Yes
Auto mode: Yes (Auto/Manual start/stop)
Dual tire size: Yes
Tire size: 100mm~3999mm (default:2096mm)
Compatible sensors: CatEye brand ISC-12 Speed/Cadence sensor / HR-12 Heart Rate sensor
* Also works with other brand Speed, Cadence, Heart Rate, and/or Power sensors conforming to Bluetooth4.0 CSCP/HRP/CPP
Battery: CR2032 X1
Battery life: Approx 5 months
Dimension: 47.0 X32.0 X13.2mm
Weight: 17 grams


The factory-loaded battery life might be shorter than the specification above.
Design and specifications are subject to change without notice.
This product was added to our catalog on November 3, 2014.